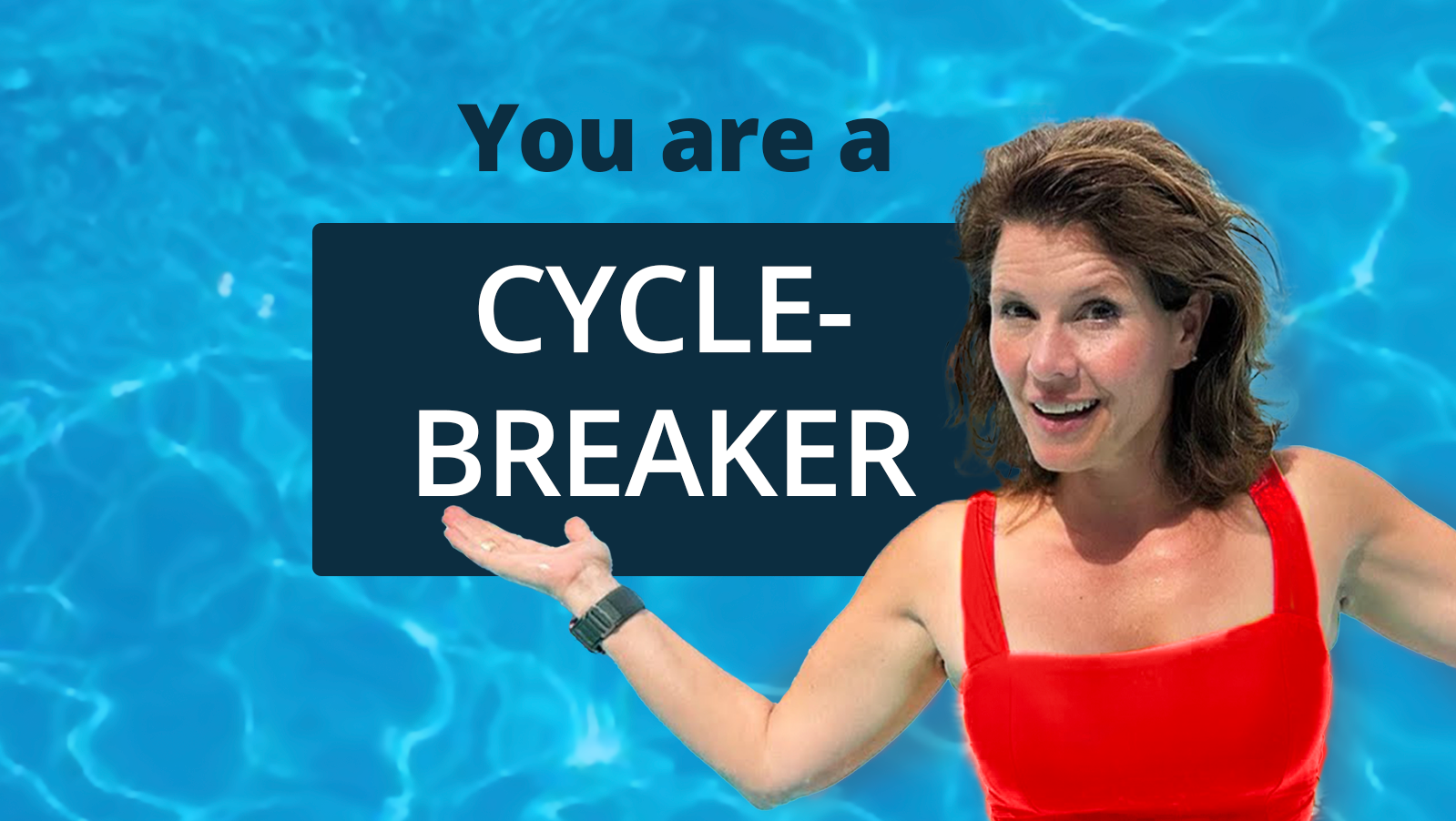 6 Rules of a Cycle-Breaker
The patients I've worked with who've lost significant weight and reversed their chronic medical conditions for good taught me the most… I call them Cycle-Breakers. And you're on your way to becoming one!
The trajectory of their life was headed in one direction and they reversed their course for good. 
After decades of supporting my patients, I've started to see similar themes in each of their stories. I've captured these in what I'm calling "The 6 Rules of a Cycle-Breaker".
More than "rules" per se, these are mantras. These are the anchors that ground them along their journey, and keep them in the game for the long haul. 
Rule #1: When they get tired, they rest, but they don't quit. 
During seasons like summer or winter holidays when routines are off, staying focused on your weight loss goals becomes even harder. It's tiring and tempting to quit. Personally, when I get tired, I drop back to ketoCONTINUUM #5, I add back the comfort of cream in my morning coffee (instead of black). I open my eating window to 3-4 hours (instead of 2-3). I stop at 6pm (instead of early afternoon). When a Cycle-Breaker gets tired, they rest, but they don't quit.
Watch this video to hear more about how to keep going for the long-game!
Rule #2: Let Data Be Your Friend
When you hit a notable goal, don't quit looking at your numbers. You don't have to look as often, but don't stop measuring. From waistline to blood glucose, the data helps you see when habits are slipping back into the habit book. 
When you hit a setback, ignoring the data turns a setback into a disaster.  Be grace-filled if you fall off. Don't reach for perfection, and keep measuring.  The numbers help root a conversation that is truthful and not ignorant.
These are the things I measure routinely, no matter what:
DBR

Weight

Shin-Thumb Print

Blood pressure

Hours between last bite & sunrise.

Morning Fasting Ketones
Also, I can't stress enough how important staying connected to community is! I still go every Tuesday morning to my support group. I'll never outgrow it. It keeps you grounded and growing.
If you're a beginner, these are the basic measurements you should be monitoring:
Ketone level from peeing on the stick

How many carbs you're eating each day

Your daily food intake in the Cronometer app

How many hours you slept

Which ketoCONTINUUM step you're on

Take pictures of your food (keep a shared folder)
Watch this video to learn more about how to exercise the discipline of data tracking!
Document diligently, and even when you stumble, keep documenting. Data keeps us talking truth to ourselves.
If you don't already have a copy of the ketoCONTINUUM workbook, it's a game-changer for data tracking that you'll want to get.
Rule #3: Know Your Triggers.
A trigger is a thought, emotion, or act that sets in motion a course of events. Triggers reflexively happen.  They are without conscious thoughts or contemplation. They are like pulling a trigger … things just happen without your permission.
It's vulnerable to share, but watch this video about my honest struggle with emotional triggers on my health journey. The only way to achieve sustainable weight loss is to be completely honest with yourself about what's really going on in your heart along the way.
The emotion wheel and needs wheel are tools I reference often when I'm dealing with my own emotional triggers.
They help you see which negative emotions are linked to a specific NEED.
Conversely, you can see which NEED is being satisfied when you feel comforting emotions.
Here's a very practical exercise you can do right now to put words to what's happening inside your heart when you're experiencing a trigger that derails you:
First, write down the last time you fell off the wagon of a habit you were working on.

Next, look at the emotion wheel & find what emotion happened right before you derailed your plans.

Then, write down your list of what comforts you when you feel that emotion. Often food is on the list of most of my patients.
The secret is to make sure you're balancing the negative triggers with comforting inputs.
Rule #4: Never Arrive
We all possess inherited thoughts and behaviors. It's tempting to think, "Well I'm just destined to have diabetes" or "I'm destined to be an alcoholic" or "I'm destined to be a night owl."
But actually, these things are associated with learned behavior. Change is possible!
I know, it's easy to say. But let me explain.
You likely know your short-term goals off the top of your head. Those goals dominate when I'm in crisis-management mode. But what's the vision for your long-term goals?
For a Cycle-Breaker, their short-term goals support their long-term goals.
For example, short-term goals might be:
I want to lose 20 pounds.

I want to keep my ketone level at 1.5 for three weeks

I want to go to the movie theater and not eat popcorn.
But once you hit that short-term goal, then what? You will never "arrive". We're playing the long-game, so once you hit your goals, it's important to stay dialed in.
To do this, you must articulate what your long-term goals that will help to propel you forward. Watch this video to learn how to craft your long-term goals and succeed on your health journey!
Rule #5: Know Your Why 
Cycle-Breakers don't want to miss out on another day of life because of poor health. Their vision of health propels them forward when it gets hard.
I've asked thousands of patients and participants in my courses to tell me "Why are doing this"? 
And I'll ask you the same thing now. 
After years of helping patients, I can usually predict a person's future success on keto based on how honest they are in the answer they give to this question. 
Be honest about the deepest motivation that is compelling you to do this keto journey, and it will take you through difficult times.
It's tempting to lie to yourself about the real reason you're doing this because it can feel too vulnerable to be honest. But Cycle-Breakers stay open to the vulnerability and get naked with themselves. Watch this video to hear about my battle with grief and weight gain, and my struggle to be honest about my "why".
Rule #6: They stay connected to community and they keep learning!
When it comes to losing weight and succeeding on keto, the truth is… without community, your keto journey will be so much harder. When you see your own flaws in someone else's story within a community, it connects you emotionally to a new story and unlocks mirror neurons in your brain.
That's what activates your brain and keeps you continuing to LEARN.
Watch this video about the tension in my early years of marriage and what it took to get better!
Cycle-Breakers know the key to success is to stay connected to community and to keep learning – it becomes their lifestyle! And it will become yours.