Dr.Bosworth
id: 209
Total lessons: 26
Total quizes: 16
You are not enrolled on this course
Dr.Bosworth
id: 255
Total lessons: 42
Total quizes: 0
You are not enrolled on this course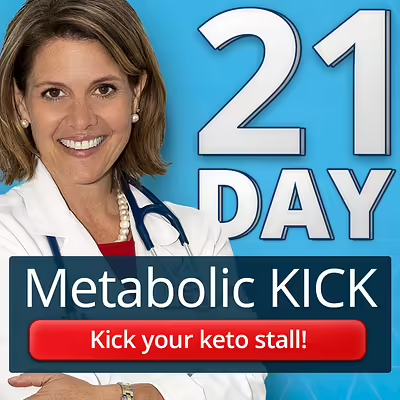 Dr.Bosworth
id: 145728
Total lessons: 4
Total quizes: 0
You are not enrolled on this course
BRAINS - From Trauma To Repair
Watch the introduction video as a sneak peak to the course
CONSISTENTLY KETO ONLINE COURSE
REVIEWS FROM NEURONS
Thank you!
Reviewed on June 10, 2022
The course was fantastic! I love how seemingly complex concepts are broken down into bite sized pieces. I would however love to hear more on protein! I come from a carnivore background and a lot of people believe they are in ketosis because they are carnivore. I have personally learned I must reduce my protein to get into ketosis, and I'd love to see videos on why that is! I understand it's the raising of insulin, but many people are being led to believe that loading up on pounds of protein is the only way to build muscle, grow hair, and stay "healthy". Unfortunately I tried that and ended up with autoimmune disorders, weight gain, inflammation and mental fatigue. Many of the people I work with know that carbs are evil, but cannot understand how high levels of protein are
... read more
Amy Bellinder
Consistently Keto
Reviewed on May 30, 2022
Just finished this course! Amazed at how easily and clearly Dr. Boz presents the information. I am so glad I purchased this course and yes I am co-leader of a class, this has not only encouraged me to be consistent in my journey but given me a voice for encouraging others to get keto and get healthier. Thank you Dr. Boz for your passion to help those of us who have been lied to for years by the medical community. I wish I had learned this so many years ago. I am looking forward to not only getting healthier myself but encouraging others to also.Lynne Thorpe
Lynne Thorpe
2nd Time Through in Maintenance
Reviewed on May 25, 2022
Excellent Course! Best I have ever taken and I have taken 100s through online sites like Linkedin Learning. Just enough info in each video to stir thoughts, change beliefs and inspire action for newbies and veterans alike. I followed the Continuum to the tee and lost 65 pounds, BMI down to 22.7, arthritic knee pain resolved and all blood markers are in optimal ranges. I am returning to the course to determine if I missed any nuances and to prepare to share with my kids and grandkids. I am running through it again using the workbook.I hope to be a shining example of what a 75-year-old can do to maintain both physical and mental health for the rest of her life! Dr. Boz's mom inspired me but Annette was the most generous, genuine, authentic teacher/doctor I have ever met. She
... read more
Sandra Case-Reeves
Thank you Dr.Boz!!
Reviewed on May 3, 2022
I purchased this course a few months ago after reading both Any way you can, and the audio version of The Keto Continuum. This course helps to build on what I had already learned. Now I am going to go thru this wonderful course again, and this time with the workbook to really dig deeper into my journey. I just ordered the paper copy workbook, and am excited to get started. Thank you for all you do to help change peoples lives! You have helped me to begin to heal my body and brain. I love that I can keep going thru the course over and over and continue to learn new things each time! Good bless you!
Heidi Batchelor
Super Helpful!
Reviewed on April 28, 2022
We have used this for our Keto support group. All of us have gained so much from this course! Great tips on preparing, jump starting and looking out for common keto challenges. Dr Boz is an excellent teacher and the handouts are super helpful as well. Worth the investment. Will use this will our newbies over and over again.
Mary Kowalczyk
Consistently Keto
Reviewed on March 30, 2022
Having just finished the online course and the book, I cannot begin to tell you how much this has meant to me. To have Dr Boz lay out the path to healing is greatly encouraging. I have arthritis in both my hips, neck and cannot close one of my hands properly. I have progressed slowly as recommended to 23:1 and have just started alternate day fasting. I check my numbers each morning just as she recommends and look forward to autophagy! Cannot recommend this book enough! Thank you Dr Boz for taking the time to reach out and help so many people
Sharon Sadler
Thank you
Reviewed on March 27, 2022
Thank you Dr. Boz for the detailed descriptions and animations that explained the chemistry of what is happening in our bodies. I am excited to be healthier at 60 years old than I was at 30. You have a gift of teaching.
Lauri Baker
Best decision I\'ve made.
Reviewed on March 9, 2022
Are you like me did everything to lose weight from Raw vegan to Carnivore, and nothing has worked. Then this program is for you. It is the missing link we all want. Just follow Dr. Boz's Course Curriculum, just as she tells you to do. Dr. Boz is fantastic at teaching, and she gives so much of her time to us. I feel very blessed to have found her for guidance. Suppose you are on the fence about getting it. Read Dr. Boz's book Keto Continuum. Then come back and jump off that fence.
Ellen Moreno
Thank You!
Reviewed on March 7, 2022
I had been surfing Youtube to learn about the Keto Diet. As you can imagine, there is a lot of good info and a lot of bad info available there and it is sometimes difficult to determine which is which. I discovered Dr. Boz's videos and quickly developed a trust in what I was hearing. I started my Keto diet before finding Dr. Boz and this course material and by the time I began the course I had already been testing my blood ketones and was sometimes getting readings which, quite frankly were a little scary and for which I really could not find a good answer (Thankfully all was good, but I didn't know that then). After finishing this course material, I now have an understanding of what I need to be doing, and more importantly, "Why" I need
... read more
Randall Powell
Amazing!!!
Reviewed on February 15, 2022
I don't use that terminology very often, for the word "Amazing" reminds me of The Creator God Who is more than we could imagine. But your course has been more than I could have guessed. I started Keto five years ago and thought I understood the basics, but I didn't know how to proceed when life repeatedly threw death and grief and stress that were all out of my control. That's why I bought your course, to figure out how to stay Consistently Keto, no matter what I face. When I saw the chart about unexpected life events within your course, I realized our family had been facing the majority of those listed all at the same time. But hearing you explain that there is still hope, that I can challenge my metabolism by stressing it with fasting to boost
... read more
Cindy Carter
Twice as good
Reviewed on January 21, 2022
I'm listening for the second time. I can't get enough and every time I listen I learn something new. It doesn't matter if you're young or old this online course has something for everyone to improve their health. We have to unlearn calories in/calories out and relearn how to lower our insulin and inflammation. Thank you Dr. Boz for sharing your wealth of information.
Andria Lust
What a Great Course!
Reviewed on January 26, 2022
How I wish I had known about Dr. Boz before I had first embarked on my keto journey! I really needed the step by step, with all the science behind it. Dr. Boz explains things in such a way that non medical people can really understand. Being a nurse it helped me too. Having read the book, and listened to it at least once, the course was the thing that put it all together. The fact that it is a "continuum" helps so much in ability to start and remain consistently keto. II I am closing in on the 70 year mark and while I did need to lose some weight, and was able to do that without much difficulty, the really remarkable thing was getting rid of my hip and joint pain. It doesn't happen overnight though, which is
... read more
jo grcich
Continuously Keto course
Reviewed on January 19, 2022
I wish I had taken this course when I first started keto. The fail proof method along with Dr Boz's guidance would have made my journey so much easier. I retake the course whenever I stumble along the keto road and I learn something new each time. I have shared the course with my family. To help them live healthier. Thank you Dr Boz!
Sue Monroe
Carol Ann
Reviewed on January 17, 2022
I finished the course and can't believe how much I've learned. I'm VERY thankful I found Dr Boz. This is going to save my life. I thought I knew a lot before, but no I really didn't. God Bless you Dr Boz. Thank you. Carol AnnFlorida.
Carol harris
Just finished
Reviewed on December 18, 2021
Thanks it was what I was looking for. I am a 72 year old VA patient participating in a VA / Virta Health program to eliminate diabetes in 400 vets across the country. I have been in the program for two and a half years and have been medication free for the two and a half years . I have been living a ketogenic lifestyle for over three years and have lost 40 pounds and kept it off. Your program will help me now and after VIRTA. I was looking for something to pick up the void when the VA and Virta program ends.Thanks
Ron Hale
Celebrating a year of Consistently Keto!
Reviewed on November 30, 2021
11 months ago, I purchased the course as a Christmas gift to myself. Never regretted the investment in my own health. I have lost and kept off 60+ since 12-26-20. Thank you Dr Boz for your easy to follow and clear information. You are truly gifted in your teaching style and honest approach to better health. I still have a little way to go, but have no doubt I will continue to improve one Ketone at a time!
Barb Aiken
Thank You
Reviewed on November 3, 2021
December, 2017 I started my keto journey. I knew nothing much about it but I knew things were not right with my body. I would come home from work, open the refrigerator and start grazing. I would go between the refrigerator and the pantry and I would never feel full. It was perplexing and overwhelming. I struggled to make sense of all the literature and advertising around this new way of eating. I limped along until I recently saw you speak at the Sugar Summit. It was like fireworks choreographed to a symphony! I knew that I had found exactly what I had been looking for! I immediately ordered Any Way You Can and 'devoured' it! (It is the first time in years that I now have hope of slowly recovering from the massive number of kidney stones lodged in
... read more
Jan Solomon
User-friendly style!!!Awesome
Reviewed on October 20, 2021
This is a awesome course on Ketos. Dr. Boz delivers easy to understand language to instruct, explain and guide in a user-friendly style. She covered everything need and more on how to get to my goal of Keto for life. It is really easy, and nice to navigate.Very convenient, even if someone is not very computer literateGreat website easy to useThank you Dr. Boz
Janet Frazier
Great process for a new life.
Reviewed on October 14, 2021
In 2008 I did the "alternate day dieting". Very hard for me to do but I did lose 50+ lbs. Then I was stuck. If I relaxed my weight would balloon up and I was hungry. Then Dr. Fung had fasting and talked about longer fast for body set point. Still I was hungry most of time during long fasts. Finally I found Dr. Boz and her easy way to get rid of hunger, lose weight and enjoy better health. Now I have my goal weight 140, AM glucose and ketones are wonderful and healthy. Pity this wasn't around years ago. The little bits of information I picked up will benefit my group and myself. Those of us who have been do her program share our AM glucose- ketones numbers to keep us living healthy for life... 😊 🙏 thank
... read more
Dorothy Chittenden
Strength I never knew I had.
Reviewed on October 13, 2021
If a year ago you would have told me that I would eat 20 cabs a day, stay fasted for 16-20 hours a day and lead a support group, I would have laughed out loud at you. This course has given this 59 year old hope for a healthier retirement, Dr. Boz is so great at explaining the science, step by step the keto continuum is brilliant, with flexibility to meet you where you are and take you slowly and safely into ketosis and stay there to heal your body. I have also made wonderful new friends and support through the group that I lead each week on zoom. I have dropped 45 pounds, have great blood lab numbers and healed major nerve pain from a back injury and have been able to be so much more active. Thank you
... read more
Susan Barnes
Second timer
Reviewed on September 26, 2021
Hi,My name is Julie Tastad and I live in North Central ND in a rural area. The first time that I started the Keto diet I was interested in the weight loss. My daughter had told me about it and I needed to lose around 60 lbs to be at 145. I have used many ways to slim down in the past. I just turned 60 and my blood numbers were not terrible but I have family history of diabetes, heart disease, and high cholesterol. I have arthritis in my knees especially. I had breast cancer 17 years ago and have been clear ever since. A co-worker asked if I wanted to start doing keto with her. I said, "sure". I was back up to 200 lbs again after losing down to 145 with keto the first time. I have
... read more
Julie Tastad
Completing This Course Once Not Enough!
Reviewed on September 23, 2021
I have gone through this course a second time because there is so much material in this course that I could not apply it because my life style and my metabolism was not ready. I am great at fasting 36, 48, and 72 hours. I have learned the right way to come off the fast without celebrating. Now I have to clean up the continuums so I am in a good metabolic state that can fit to my none fasting lifestyle. This is difficult with holidays, vacations and traveling. This course provides the details, explanations, and the Q&A necessary. I am part of a very active support group. I am also going through this course material to support friends and family.
Edison Rush
Excellent Online Course!
Reviewed on September 15, 2021
Dr. Annette Bosworth is a very gifted teacher.
Sanya Richardson
Amazing
Reviewed on July 23, 2021
I am so grateful for Dr Boz and all the info she shares. In March of 2020 I got very sick with colitis and had to go to the ER with severe pain. They said I needed to adjust my eating so as not to have another flare up. I came across Dr Boz's course just as the world shut down with the pandemic. I took her course and read her book. I was fascinated and decided I had to try. I first noticed my stomach stopped hurting, then my sleep improved, then my joints stopped hurting and my skin cleared up. And finally I stepped on a scale bc my clothes were looser...I lost weight!! 20 lbs after about 2 mos. Fast forward to today...I am down 45 lbs and feel great! I highly recommend this course and her
... read more
Jeannie Johnson
John Cloonan Review
Reviewed on July 4, 2021
Dear Dr Boz,Thanks to your medical understanding professionalism, and (more importantly) your ketogenic discipline and practice in your life, and your Mom's, I have found your course to be thorough and helpful and complete, in building a bridge of understanding, to my slow but steady grappling of understanding, this topic of the keto diet and lifestyle. Years ago, as an adolescent (68 now) I experienced ketosis and autopagy while reading a book by Herbert Shelton on fasting. All these years I never grasped the importance of curbing carbs to a measurement of 20g or less per day. As a result, my searching eventually led me to a sort of paleo form of eating. Dosing myself with fresh fruit, though, was a part of it. Today, I begin to see the futility and errors I was making. Now, more than ever,
... read more
John Cloonan
Brains: From Trauma to repair
Online Course
Life Changing
Reviewed on July 15, 2022
Dr. Boz packs years of study and experience with broken brains into lessons I can understand. I learned I am hurting my brain by not getting enough sleep. I can help my brain by taking actions to my increase BDNF! Thank you, Dr. Boz, for teaching me about BDNF. You give me hope by showing me that a few small changes can make a big difference in the way I feel and the actual shape and functioning of my brain.
Mickey Button
Brain From Trauma to Repair
Reviewed on July 7, 2022
I have been in healthcare as a nurse and family nurse practitioner for 32 years, and yet this was NEW information to me! It was well worth the money. I will watch it again and again and find ways to apply the information to help people. I will keep sharing the information with friends/family. I keep imagining how I am going to share it on a larger scale. My mind is spinning with great ideas. Thanks Dr.Boz.
Darci Harper
ALIVE WITH POSSIBILITIES
Reviewed on June 11, 2022
This review is for the BRAINS: Trauma to Repair Course that I attended in Pella, Iowa and purchased after the fact. This course, researched, created and presented by Dr. Annette Bosworth, lovingly known as Dr. Boz, is brilliant! This course was so well researched, organized, easy to understand and fun that my attention never wavered throughout the two days. Dr. Boz is a great storyteller and uses a lot of personal examples and class participation; that method of teaching has always helped me retain what I am being taught which allows me to teach it later, using my own stories. Her excitement is contagious! I look forward to facilitating my own Zoom Classes to get this crucial information out! Between this Course and Dr. Boz's Keto Continuum Course, I am living the quote Roger Sperry shared in an acceptance speech
... read more
Deborah Sager
Rollin Davis 5/29/22 Progress Report
Reviewed on May 29, 2022
I first discovered Dr Boz on YouTube in October 2019 through my interest in the keto diet. Her style of presentation on YouTube brought more clarity to the science behind its benefits. The Dr. Boz channel was where I learned the method used to track the ratio between ketones and glucose in my blood. When she came to Tampa mid-2020, I was on a path that was taking me slowly away from keto and back into danger. I was fortunate to join her first Tampa support group connected to her "Consistently Keto" program. This experience saved me. When Dr. Boz announced her Brains course, I was extremely interested, but a little hesitant because of the cost, and it would force me to give up my favorite golf day for zoom meetings just as the support group had done. I wasn't
... read more
Rollin Davis
Message of HOPE!
Reviewed on May 25, 2022
Dr. BOZ:This is the 3rd time that I have taught this curriculum inside an adolescent treatment facility. Due to discharges that are sporadic in the facility, most clients do not get the entire curriculum, but I have found a way to provide a review of certain modules so that the majority of the curriculum is covered. These teenagers are engaged, active and they do hear the message of HOPE - that they can repair their brains! Thank you for sharing your knowledge and passion through this platform! You are appreciated! The clients "loved" the South Dakota connection! You are changing lives!Cricket & Vonnie
Vonnie Ackerman
Fantastic!!
Reviewed on March 31, 2022
I am so Thrilled to have access to such a Wealth of information from DR Bosworth !!I actually just finished the workshop in time for the recent Q&A. And I plan on returning to the program several times to take notes to improve the quality of my life!! I have already offered my husband access to the workshop and I am eager to discuss such wonderful discoveries that was so clearly demonstrated in the video segments. I am grateful to Dr. Bosworth for her dedication and hard work to help people and communities live better. I believe it was the best money I ever spent! It is a gift that keeps on giving! I thank you from the bottom of my heart:) God Bless+
Mary Mammet
The incredible Dr. Boz BRAINS COURSE
Reviewed on March 27, 2022
Thank you Dr. Annette Bosworth for making this course. BRAINS: From Trauma To Repair! To anyone considering this course I say Wow! I have learned so much. I realize that there is much information that I have never heard before packed inside this course. Dr. Boz is truly an expert on what helps or hurts the brain, and importantly, what HEALS the brain. Some of the things in life that I had a "sense' that were harmful, were explained in this course. People close to me would argue that certain things were not harmful, while I intuitively had a sense they were not good for the human body, yet I had no words to explain why I was being cautionary. Also because I did not have the knowledge, I have fallen victim to mistakes that undoubtedly harmed my brain... but
... read more
JulieAnn Stone Ryan
I feel more self-empowered to fix the damage I\'ve done to my brain than ever before.
Reviewed on February 1, 2022
I knew all along that some of my life choices and habits were negatively impacting my life. I didn't realize how much impact they were making. With this newfound knowledge, I feel more capable of facing the hard times that come with removing those habits and dealing with the hardships that come as I face a life of sobriety. I know it won't be easy, but it will be more manageable knowing that there is hope for my brain to repair the damage I've done to it. I also now have children in my life and I feel I owe it to them to give them a better chance at success in life than I gave myself. I wish more people knew the truth about some of the socially acceptable pastimes that are damaging their brains. I have begun to
... read more
Brandon Wehn
Brains from Trauma to Repair
Reviewed on January 20, 2022
WOW! Its hard to put in a few paragraphs what this course has meant to both my husband and myself. We had noticed increasing brain difficulties and I kept feeling nudged to enroll in the course. I am so glad we did. it answered so many questions, some that we didn't even know we had. The information is invaluable, not only for ourselves but for those close to us. We plan on sharing the course with interested close friends and family and maybe for some youth groups we are affiliated with. The zoom meetings were certainly an added bonus, such individualized attention and getting to know our group members.
jo grcich
It's Never Too Late
Reviewed on January 18, 2022
All my adult life I prided myself that I didn't require 8 hours of sleep or so I thought. I started the Ketogenic diet in the summer of 2018, and that's when I started following Dr. Boz. She would always say to remember when you are not motivated to continue eating keto, what is your why? I would always say it was for anti-inflammation, and she would say for strengthening her brain. It wasn't until I took this course that I understood why she was so passionate about strengthening her brain. After taking this class I understand the importance of sleep for a child's development and for the health of our brains as we get older plus so much more. I am so thankful for Dr. Boz and how generous she is with sharing her knowledge. Thank you, Dr. Boz,
... read more
Vickie Kelsay
Fantastic Course!!
Reviewed on January 11, 2022
Hey Doctor Bozworth, This course has been incredible. Thank you so much for providing all of this instruction. My short term plan is to optimize my own brain & body health and then attempt to help my immediate family members that struggle with obesity, OCD, Bi-polar, ADHD and all types of addiction. My long term goal is to bring this course to the inmates in the prisons in Huntsville Texas. Through my church I have been involved in various clothing drives for inmates leaving the system. There is a huge need up there. Huntsville is one of the largest concentrations of inmates in the country and it's only a 30 minute drive away for me. Maybe that's my mission field. Best wishes, John Ford
John Ford
…You need to take this course...
Reviewed on January 11, 2022
I was very hesitant to take this course, initially, because of the cost. In spite of this hesitancy, I was constantly nudged by myself to enrol. "You need to take this course" had become a repeating mantra in my mind. I did enrol in the 11th hour. I had no idea how I was going to use this new knowledge. I just knew I had to take it. I wanted my last decades on this earth to be the best possible. I did not want my brain to grow old before I was finished my to do list. And I thought my husband could benefit, as well. I could see his brain aging rapidly and I wanted to help him. Each week when I learned about how and what can be repaired neurologically, another person, I knew, went on my
... read more
Karen Lee Edwards
Awesome tool for a healthier brain!
Reviewed on January 11, 2022
There are not enough words to express my gratitude for Dr Boz and her willingness to share so much of her journey, knowledge, and tools with those of us who desperately need them and who know others who do. I have learned so much I did not know through taking this course and the Consistently Keto online course and plan on sharing with my family, church, and anyone else willing to meet and listen to the material. It is well worth the price she offers for the course. Thank you again, Dr Boz and your beautiful family for this service and sacrifice.
Sandra Counts
Learned So Much
Reviewed on January 11, 2022
This expand my knowledge of addiction. I learned a lot when acquiring my health, life and recovery certifications, and this helped take it to another level. I plan to use this information to heal myself and I will share this with my clients. The information will fit perfectly in my ministry and coaching sessions.
Leah WARE
There is hope!
Reviewed on January 11, 2022
My husband and I both suffer from brain fog, his from Parkinson's, mine from the chronic inflammation of autoimmune disease. Learning options for healing our brains, having tools to improve our brains' performance, has given us both hope! I believe we are never too old to change our brains!I recommend this course to anyone who even thinks their brain could use some improvement.
Vicki Barber
We can hope again!
Reviewed on January 4, 2022
I took a chance by enrolling in this Course, not being sure if it would address my husband's issues with Parkinson's. After watching a few of Dr. Boz's YouTubes, he felt he could trust her teaching and agreed to "attend" the Course with me. After only a few weeks, he is solidly on board! We are both practicing the recommended sleep hacks and "correcting" our diets because a correction is more sustainable than a "change!" We've changed our diet too many times before but Dr. Boz's recommendations make SENSE and if something makes sense, we will do it and stick with it. For the first time in 3 years, I believe that his disease can be slowed and yes, even reversed some. We start this New Year with lighter hearts and, soon, with lighter steps.
Vicki Barber
Brains-Trauma-to-Repair
Reviewed on December 18, 2021
I initially signed up for this course for myself alone. As I progressed through each module, I was immediately reminded of so many members of my family, work family as well as neighbors in my community that I love. It was if I were drawn to share this new found knowledge with all of the aforementioned. After completing this course, I am committed to begin working on my own addictions and brain repair prior to teaching others. This course is truly amazing and I highly recommend it to anyone struggling with addiction in order to empower yourself to be able to pay it forward to those you love and also the unlovely. Thank you Dr. Boz for your Servant's heart and the countless hours you have invested in us - your students. "May God Bless you exceedingly, abundantly in all
... read more
Linda Chandler
Outside the Box
Reviewed on June 25, 2021
Dr. Boz, thank you so much for thinking outside of the box and empowering all of us to help you change the health of the world. Just this morning, in the second Brains group I am leading, we were talking about how the Brains: Trauma to Repair information should be taught in schools. Can you imagine the lives that would be saved, repaired, or even spared the ruin of drugs, alcohol, carbs, malnutrition, and poor sleep? My ultimate dream is to collaborate with physicians, teachers, parents, neighbors, leaders, family and friends in my community to get this information on ultimate brain health into the hands of everyone. We all need the knowledge to live our best lives in this beautiful world. If we change the fabric of the communities in which we live, these methods will become the new norm
... read more
Richardson Sanya
Learned so much!
Reviewed on May 29, 2021
This course was amazing! I learned so much about how to take care of my brain and what to do to repair any problems I may have created with my lifestyle. I was fortunate enough to lead a group of 24 other people through this course. We all had so much fun working together every week to figure out the "wrong" answers and often times were very surprised at what we found out. Dr. Boz made this course engaging and fun with the competition and story telling. Now that we have completed the course we are all looking for ways to lead our own families and communities through it.
Kimberly Powers
From Trauma to Repair the Brain
Reviewed on May 6, 2021
I found that many persons who should take this course are those who think that it doesn't apply to them. I was in that group. Others who have suffered with Trauma will KNOW that it applies to them. But I found from the very first Module to the last one that both groups have "brains" that need help. It begins with an understanding of how the brain actually cleans itself at night with Slow Wave Sleep (SWS). We need SWS to repair the brain and requires 7 to 8 hours of sleep. The author then moves on to the role of the Hypothalamus to show its role in memory and emotions. She provides much reference material in Bibliographies with convenient links to them. Dr. Bozworth then adds modules that cover the various addictions and their treatment. The author/doctor then culminates
... read more
James Metcalfe
Hope for us all!!!
Reviewed on May 5, 2021
Wow!! Just amazed at the level of help Dr Boz is sharing. To learn there is hope to heal our brains from all of the trauma we all have endured at one time or another.. from life traumas as a child, witnessing horrible abuse, being held up with a gun as a child... to having prescription narcotics and numerous toxins from chemo.... to KNOW steps I can take to repair this damage is just amazing! So grateful to have learned all of this from dr Boz... her teaching is top notch... her heart for what she does shines through as always. Thank you again Dr Boz. You have truly changed my life. This course is so worth every penny!! We can now help so many people in our communities. Paying it forward every chance I get.
Tammie Laubacher LMT
Powerful
Reviewed on May 5, 2021
Dr Bosworth is an incredible educator. I will never forget the stories she shared. I look forward to sharing what I have learned with others who are interested in helping repair brains in a sustainable and meaningful way. Again, if you have the chance to take a class with Dr. Bosworth, it is worth every penny.
Laurie Hayzlett
Brains from Trauma to Repair
Reviewed on May 5, 2021
I found this course very helpful. I thought the handouts were curious and helpful once I mastered how to do them. Personally I ended up with some technical questions about the assessment and also how head injuries impact older brains. I thought the final section on the city council piece was particularly helpful. I would want it to be available to any community that is struggling with widespread problems with addiction and drug and alcohol issues. I took the course because of my personal issues and traumatic background. Trauma and brain issues are rife in my family so it is not just for myself but to better understand what might help the younger members of my family.
Patricia G Spielberg
A natural born teacher!
Reviewed on May 5, 2021
I really loved the course! Dr Boz is a natural born teacher!!! I love listening to her voice, enthousiasm, stories, conversations with her kids, jokes, …What a well build course … with tests … and different sections … it really helps focussing and dealing with it more intensely…I'm very gratefull for the assessment and the evaluation dr Boz did with specific advice for me personally. I told my family and friends about the importance of sleep and ordered some extra darkening curtains for my bedroom.It gives me hope that there is so much that a good and well informed doctor can do to help this worldwide problem of addiction that causes so much harm to mankind.
Fien Cnudde
Brains Course: Review
Reviewed on May 5, 2021
Both my intuition and trust in Dr. Bozworth, played a big part in my taking this course, at this time. I am currently taking graduate classes toward becoming a nurse educator, as well as working in a cardiac unit providing bedside patient care including open-heart surgical discharges and congestive heart failure education. This course has been pivotal to both personal and professional development. Personally, I maintain ketogenic adaptation to combat insulin resistance that contributed to inflammation and several autoimmune conditions. I recognize the link of inflammatory processes to both the local and global health crisis of chronic disease. Since experiencing the benefits of ketogenic adaptation, the hardest/saddest thing for me to do, at work, is presenting the mainstream teaching programs recommending the low salt, low fat diets toward optimal health. I feel disheartened as well, when passing medications, sensing that
... read more
kathleen fitzgerald