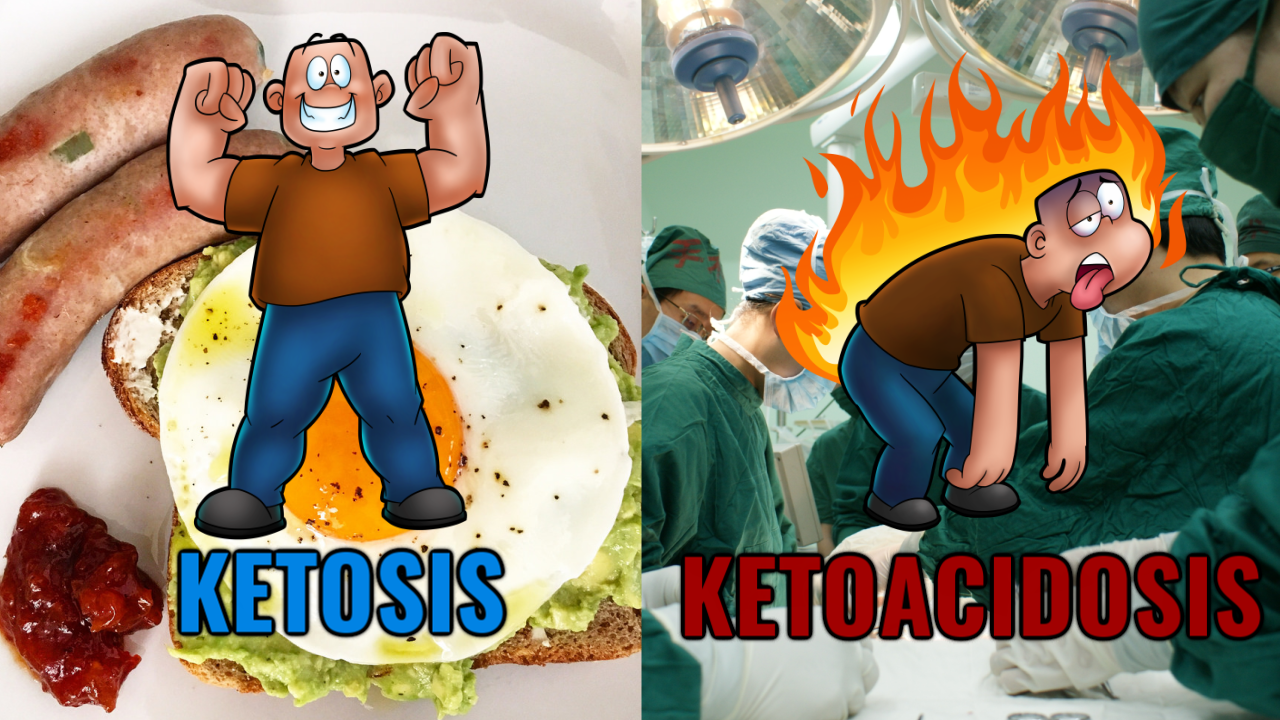 Ketosis vs Ketoacidosis: Separating Benefits from Danger
Ketosis vs Ketoacidosis is only a great discussion because they are two separate things.
"Isn't Ketosis the same as Ketoacidosis?"
No.
Truth be told, I only hear this question from healthcare professionals that didn't slow down enough to carefully think about that question. Like me, their brain jumped to the near-death scenario of ketoacidosis when they heard the word ketosis. Most of my patients have never heard of either of these words.
Before you present this idea to your doctor, read this blog. Print it out and take it along on your doctor visit.
Ketoacidosis = DANGEROUS
This is a life-threatening condition. This deadly chemistry shift happens to Type 1 diabetics. Remember, Type 1 Diabetics are those people who cannot produce insulin. Their pancreas does not squirt out this sugar-handling hormone when their blood sugars rise.
Since 1922, these patients have the privilege of surviving without a functional pancreas because of insulin. Insulin injections allow the entrance of those glucose molecules into the cell. Once inside, they are burned as fuel.
Without the injection of insulin, Type 1 diabetics can't use blood sugar as fuel.
Insulin triggers your body's cells to capture the sugar in the blood and deliver it to your furnaces. Only then can your cells burn it as fuel. Without insulin, sugars circulate continually and never enter cells. Insulin is the chemical key that allows glucose to enter your cells. Once inside, mitochondria burn this sugar compound for energy.
Without insulin, the sugar in your bloodstream rises and rises. It entered the system and there is no way to get rid of it as fuel.
What Happens When Mitochondria Don't Get What They Want?
When mitochondria can't access sugar fuel from your bloodstream, your body switches over to ketones. As previously stated, the enemy of ketones is insulin. When there is no insulin in your body, ketone production has no limit.
Ketones, as fuel, work just dandy for Type 1 diabetics. Unlike glucose, ketones need no help getting from your blood to the furnaces insides of your cells. Ketones slip right through your cell walls and straight to your mitochondria for energy production. Ketones ARE usable to a diabetic. Without insulin shots, Type I diabetics switch each and every cell to a ketone-burning furnace.
Before long all furnaces are churning through the ketones. Massive ketones churn out of their liver. Excessive ketones burn within their mitochondria in their tissues. With every cell in the body burning ketones for fuel, a tremendous amount of energy swelters the system. Remember that each ketone delivers 32 units of energy as compared to 2 units produced by each glucose molecule. While all the engines burn through ketones, the glucose molecules are stuck outside the cell and walled off from the furnaces. This causes the blood sugars to rise and rise while the system burns more and more fuel.
With every cell glowing hot with ketone fuel, what is the problem?
As the Type 1 diabetic fuels the whole system on ketones, their body's chemistry becomes overheated and acidic. Couple the intense energy production with the very high blood sugars and these patients can die from this situation. Heavy ketone buildup creates an acidic environment: ketoACIDosis.
For those of us that normally produce insulin, even after months of cranking out ketones, we will never have 100% of our furnaces burning ketones. Many of our cells use ketones for fuel, but some cells still use glucose. Glucose always outranks fats for fuel, as long as the fuel can get to the furnaces.
Insulin assists the glucose with entrance into the cell. If glucose floats by, insulin triggers the cell to grab glucose and pull it in. In that situation, the cell burns glucose while ketone fuel is halted. Normally cells constantly change back and forth between using ketones and glucose.
If you look at 100 cells you will find the ratio of those using glucose versus ketones will fluctuation based on how much glucose gets funneled into the furnaces. Once all the glucose is used up, the furnaces switch back to ketones. If you spread a sprinkle of glucose, a few cells with gobble up that glucose and flip back the other way.
Ketosis = NOT DANGEROUS
Nutritional ketosis refers to the steady production of ketones which are then converted by your mitochondria into energy. Ketosis is triggered by a sharp drop in blood sugar inside the cell.
This low glucose is made possible by fasting or cutting out your carbs. Without insulin, Type 1 diabetics have low blood glucose inside the cells because they have no insulin 'keys' that allow entrance.
Here's how it normally plays out: once you stop eating so many carbs, your body uses up its stored sugar.
For those of us with insulin, our body burns the glucose fuel circulating in your blood. Next, it empties your stored fuel in your liver. When all that's used up, your insulin and sugars drop continuously. Finally, insulin all but disappears.
One by one, your mitochondria switch from glucose to ketones for fuel. They keep the fire burning, but transition from the fast-burning sugars to slow-burning fat. Not every mitochondrion makes the switch, but more and more of them transition to burning fat. A few sugars enter your system and quickly get burned as the mitochondria switch back and forth.
When you eat mostly fats, your mitochondria become efficient at using either option for energy. A few are switching over to sugar and back again to fat when all the sugar is gone. This fat/sugar blend keeps ketone levels within a safe range. Without insulin, close to 100% of your cells burn ketones. This creates the life-threatening situation of KetoACIDosis.
When in doubt – measure your numbers. This means you need to poke your finger. Keep reading . . .
For years my diabetic patients told me they preferred the blood meter that worked – all the time. I listened – but clearly, I didn't listen closely enough. Since practicing the KETO diet, I tried several others before I bought the one they all used. I can't count the number of times I have tested my blood only to get an ERROR message from the strip. Grrr. I hate that. FORACARE gets my vote because it is accurate and takes only ONE test strip to get the results. YES!! FORACARE: http://bit.ly/2QKGmKG
For further information about this check out the book, ANYWAY YOU CAN: A Beginners Guide to Ketosis.