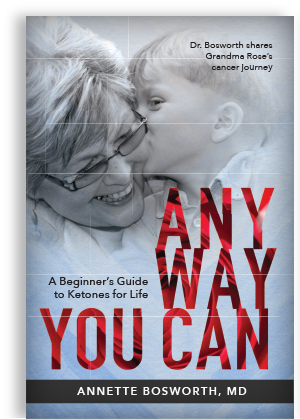 Anyway You Can: A Beginner's Guide to Ketones For Life – [Paperback Edition]
Price $17.00
In stock
Doctor Bosworth Shares Her Mom's Cancer Journey
Annette Bosworth, MD is an award-winning doctor specializing in Internal medicine. Dr. Bosworth's many press mentions include CNN, Time Magazine, U.S. News, Fox News, and many others. This is her debut book where she shares her personal journey helping her mom fight cancer with the ketogenic diet. She is recognized as an expert in nutrition, exercise, and mental conditioning programs, and works to help patients achieve ketones for life.
"DOC, WHAT WOULD YOU DO IF IT WAS YOU?" Dr. Bosworth captivates us by sharing her personal thoughts in a life or death situation for her mom. As we get a close look into her mistakes and all, she teaches about this interesting molecule called a ketone. The pages keep turning as you wonder what happens next to her mom, "Grandma Rose." This story of courage, faith, and tenacity inspires young and old readers from all walks of life to reach for better health through ketosis.
"FIGHT IT ANYWAY YOU CAN. Ketones for life."
Annette Bosworth, MD is an Internal Medicine physician based in Sioux Falls, South Dakota, with over two decades of experience helping patients overcome long-term, chronic conditions through lifestyle adjustment, preventive medicine, and other therapeutic paths. She's been mentioned in media outlets ranging from CNN, Time, US News & World Report, to Fox News. Dr. Bosworth authored the book titled ANYWAY YOU CAN. She shares the medical and emotional struggles of her mom's struggle with cancer. This book is a must-read for patients suffering from brain-slowing, and chronic diseases. She engages the reader in the first chapter and before you know it, 360 pages have turned.