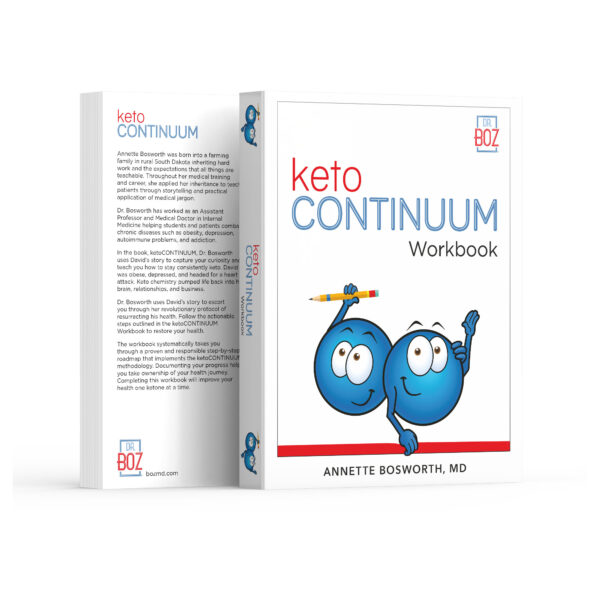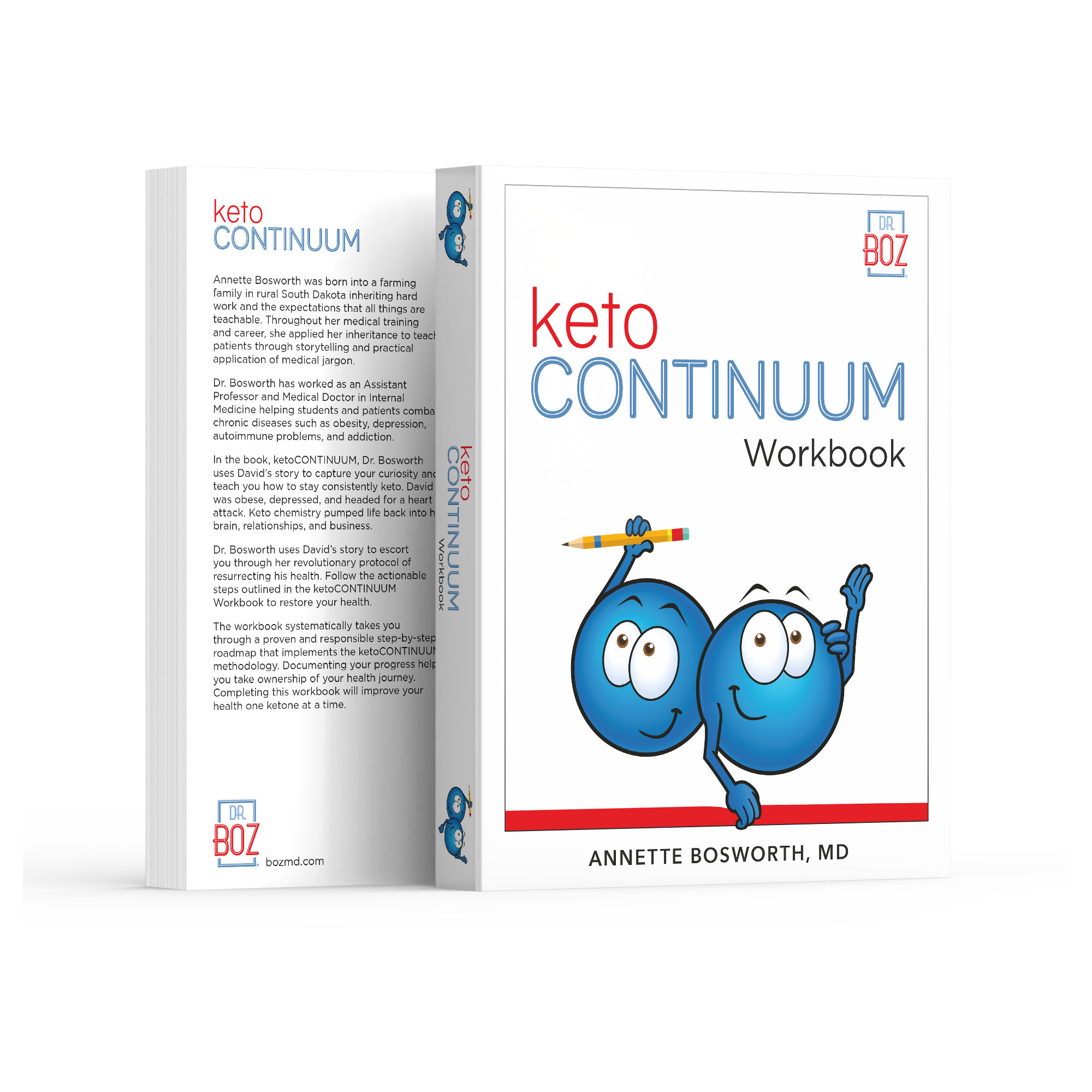 ketoCONTINUUM Workbook: The Steps to be Consistently Keto for Life
Price $19.99
In stock
ketoCONTINUUM Workbook delivers a clear path to health.
The book, ketoCONTINUUM, shares David's ketogenic journey from failing health to vibrancy. Author and internal medicine physician, Annette Bosworth, MD, (Dr. Boz), uses the steps outlined in the ketoCONTINUUM to improve her patients' health at her clinic, Meaningful Medicine. The ketoCONTINUUM Workbook shows you how to recreate David's success.
ketoCONTINUUM uses David's story to escort the reader through the resurrection of his health. Dr. Bosworth captures your curiosity while teaching a step-by-step process to stay consistently keto. From mindset and behaviors, to support systems and conflict, ketoCONTINUUM walks the reader through Dr. Bosworth's revolutionary protocol she practices at her medical clinic. ketoCONTINUUM combines the latest developments in brain research, sleep, and keto-chemistry's impact on health. Why? To teach the reader how to reverse insulin-based illnesses once thought impossible to heal, such as obesity, depression, unhealthy livers, inflammation, leaky gut syndrome, and autoimmune diseases. This relatable story teaches how to succeed using ketogenic nutrition, overcome common ketosis pitfalls, and sustain your vitality. Dr. Boz weaves clever analogies and science lessons into David's journey.
ketoCONTINUUM Workbook systematically takes you through a proven and responsible step-by-step sequence that implements the ketoCONTINUUM methodology. Follow the lessons in the ketoCONTINUUM Workbook. The ketoCONTINUUM Workbook links the charts and lessons needed to resurrect your health. Completion of the workbook guarantees improved health.
The online course, Consistently Keto, uses video format to teach the same content and connect you with other "Dr Boz Neurons." Join Dr. Boz's support team by taking the course Consistently Keto and healing your body one ketone at a time.